GRIND x NOT JUST ANOTHER STORE
Cosmopolitan and craft-centered ethos,
the coffee brand Grind takes residency at Not Just Another Store New Inn for the summer.
COFFEE COMMUNITY
At Not Just Another Store, we are opening a dialogue between contemporary fashion and lifestyle brands, creative voices, and our community. What's better than discussing future trends and discovering emerging designers around a cup of coffee?
In celebration of the reopening of our Shoreditch concept store situated at 9, 8-13 New Inn Street, we partnered with Grind to offer a cup of coffee to all of our visitors.
As you shop our contemporary men, women, and lifestyle brands such as Laine from Korea or Mazelle Studio from Nigeria, enjoy a free cup made with our Grind coffee machine inspired by the steel Italian machines.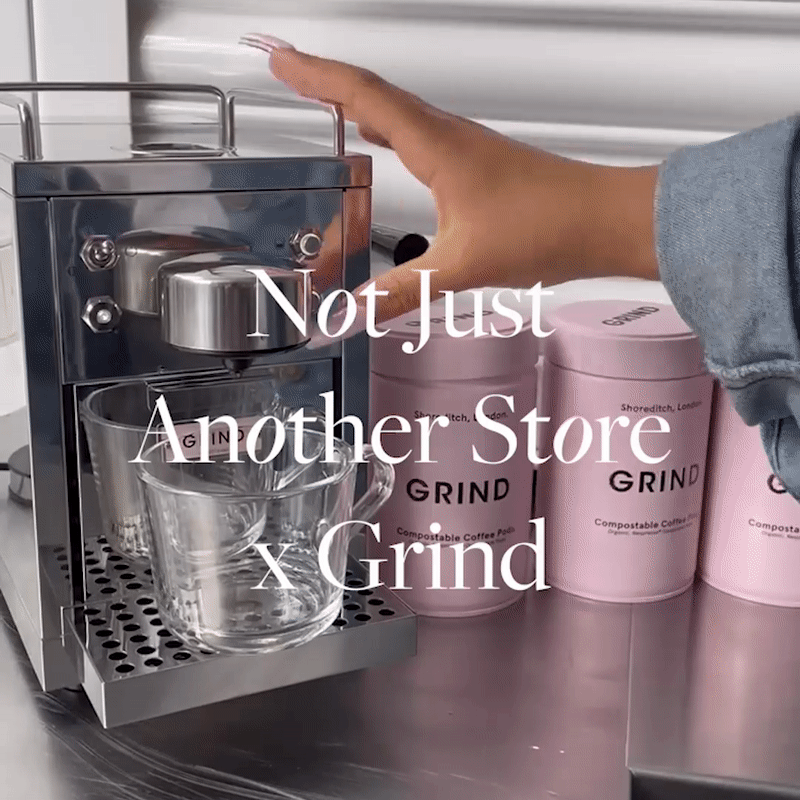 #GRINDATHOME
In the past decade, Grind has grown to become a cult coffee brand with locations across London; including espresso bars, cocktail bars, restaurants, an international-grade recording studio, and a state-of-the-art coffee roastery.
Grind coffee comes with a medium roast that will satisfy coffee drinkers as it doesn't have the bitter notes that we taste when drinking other coffee brands. 
SUSTAINABLE
HOMEMADE COFFEE
Did you know that a massive 350 million coffee pods are consumed every year in the UK alone? Plastic and aluminum coffee pods are filling our planet with waste, with almost 30 billion of them finding their way to landfill each year.
Committed to creating positive change, our ethics do not discourage our passion for homemade coffee, since Grind coffee capsules are certified industrial compostable and 100% plastic-free.